Product Name:Remote Control Roadblock
Remote Control Roadblock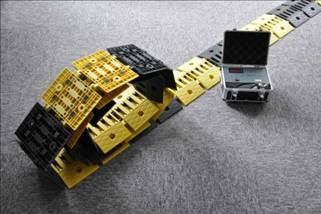 Quick Details
| | | |
| --- | --- | --- |
| Place of Origin: Shanghai China | Brand Name: LB | Model Number: LBA-LZ001 |
| Certification: ISO9001 ISO14001 | | |
Specifications
* Electrical Operating
* Remote Control
* Anti-Stress 60T
Configuration

Specification

Name

Anti-Terrorism Concealed Car Stop Roadblock

Voltage

220V

Model Numbe

LBA-LZ001

Thorn Length

150mm

Waterproof Grade

IP67

Leak Speed

1-2S

Material

Cast Steel

Length

10m

Operating Principle

Electrical

Retractable Speed

1-2S

Control System

Remote Control

Power

120W

Specification

0.4m*10m

Anti-Stress

60T

Brand

LB

Origin

China
Details:
1. The safety anticollision series is designed and manufactured by our own.
2. It is suitable for channel traffic control.
3. To block and stop the unapproved and unauthorized vehicle by the way of broken tires. Solid structure had a significant effect on interception.
4. It is necessary to equip them for the important government authorities and anti-terrorism sites.
Prev: Nothing    Next: Explosion-proof blanket
[ Back ]