Product Name:Explosion-proof blanket
Explosion-proof blanket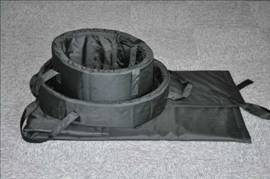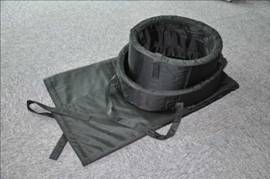 Quick Details
| | | |
| --- | --- | --- |
| Place of Origin: Shanghai China | Brand Name: LB | Model Number: LBA-FBT001 |
| Blanket size: 1.2m*1.2m / 1.6m*1.6m | Jar size: 0.4m*0.3m | Standard: GA69-2007 |
Specifications
China Standard GA69-2007
Bomb blanket: 1600mm*1600mm/ 1200mm*1200mm
Bomb Jar: 400mm(diameter)*300mm(height)
- China Standard GA69-2007
- Bomb blanket: 1600mm*1600mm/ 1200mm*1200mm
- Bomb Jar: 400mm(diameter)*300mm(height)
- G.W.: about 36.2kg
- According to newest anti-bomb standard in China GA69-2007, the bomb blanket should meet the follow specifications:
- At first, use the bomb jar to cover the suspicious explosive substances, and make it at the center of the jar, then put the blanket on the jar and make the center point match the jar's.
- Bomb supperssion performance:
As the explosive source,one 82-2 standard grenade would be put in the center of a circle of simulate target forshooting that of 3000mm diameter and 1700mm height would be surrounded. When the explosive sources is detonated, there should be not any penetrated holes on the targets.
Prev: Remote Control Roadblock    Next: Nothing
[ Back ]