Anti Riot Shield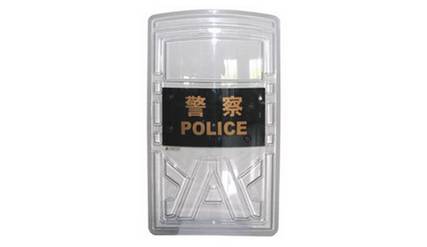 Quick Details
| | | |
| --- | --- | --- |
| Place of Origin: Shanghai China | Brand Name: LB | Model Number: LBF-DP002 |
| Certification: ISO9001 ISO14001 | | |
Specification:
POLICE PROTECTION SHIELD, PC material, Weight: 2.60 KG, Size:900*580*3 mm which is widely used for police and security.

Description:
1. material:transparent PC(polycarbonate)
2. Thickness:3.00 MM
3. size:900*580*3.0 mm
4. weight:2.50 kg, along with the handle
5. Two Solutions for Handles: Plastic and Aluminum
6. Adjustable Velcro Belt
The shield could stand strong shock, the shield could pass shocking, penetration and bending test till caliber 12 cartouche 6-32 g from a distance of 5 meter without the effect of penetration and cracks.